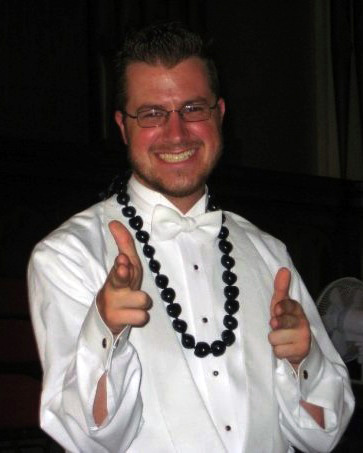 Voice-over Artist
A native of San Jose, California, Daniel is an aspiring educator, author, and voice-over artist. He has a deep, rich voice, which has been useful in his participation in several theatrical productions as the Voice of God. He does convincing impersonations of renowned vocal performers, including but not limited to James Earl Jones and Don LaFontaine. He has also narrated radio advertisements and video presentations, and recorded telephone scripts and video-game characters.
Daniel began developing his voice by singing the Star Spangled Banner for sports events in high school, followed by 4 years with the Azusa Pacific University Men's Chorale – singing Bass, of course (only the director could sing lower than he). While at APU, he took several elective courses focusing on Radio and Acting, in addition to his coursework for a double major in History and Biblical Studies.
Daniel is constantly expanding his vocabulary through his favorite pastime – reading books. He reads several hours each day, and particularly enjoys historical works, including fictional epics such as Star Wars, Lord of the Rings, and the Chronicles of Narnia. This coupled with Daniel's photographic memory often produces word-for-word dramatizations of scenes from books or movies.
Don LaFontaine Imitation
Audio clip: Adobe Flash Player (version 9 or above) is required to play this audio clip. Download the latest version here. You also need to have JavaScript enabled in your browser.

Voice of God
Audio clip: Adobe Flash Player (version 9 or above) is required to play this audio clip. Download the latest version here. You also need to have JavaScript enabled in your browser.

Treebeard (from Lord of the Rings)
Audio clip: Adobe Flash Player (version 9 or above) is required to play this audio clip. Download the latest version here. You also need to have JavaScript enabled in your browser.

Emperor Palpatine (from Star Wars)
Audio clip: Adobe Flash Player (version 9 or above) is required to play this audio clip. Download the latest version here. You also need to have JavaScript enabled in your browser.